Mission Statement:
At Richmond Foot and Ankle Clinic we believe in treating patients as our own family. In doing so, we believe patients make better decisions when they are well informed. We believe in educating patients about their conditions, but also in treatment options. We attempt to exhaust conservative treatment before contemplating surgery. We also believe in providing a friendly and comfortable environment. We believe the secret to our success includes compassion and care.
Dr. Montufar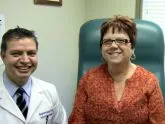 Richmond Foot and Ankle Clinic
Is a Podiatrist, also known as a doctor of podiatric medicine (DPM). A Podiatrist focuses on the diagnosis and treatment of disorders of the foot, ankle and lower leg. Conditions can range from bunions and heel spurs to congenital abnormalities and ankle and foot injuries.Podiatrists also can diagnose and treat foot ailments related to diabetes, arthritis and other illnesses. Diagnostic tools include X-rays and laboratory tests, followed by treatments such as medication, physical therapy, orthotics, and casts.